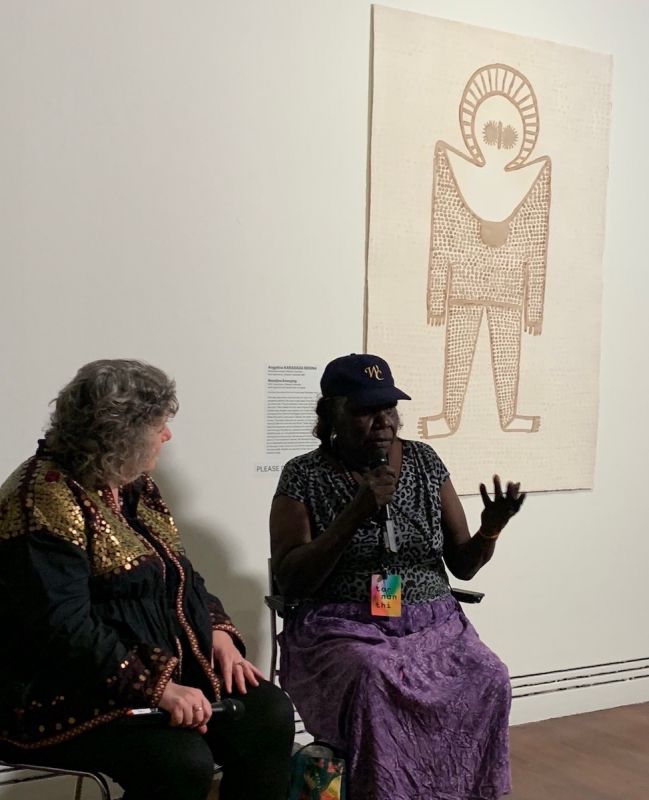 TARNANTHI 2021 featuring Angelina Karadada
Kira Kiro Artist Angelina Karadada transfixed audiences with her subtle and textural Wandjina Emerging works at the Art Gallery of South Australia (AGSA) for Tarnanthi 2021.
---
Project Categories
Dawang Stories
Culture
---
Project Status -
Current
About This Project
Having received great attention over recent years for her remarkable Wandjina Emerging series, Karadada presented four, almost life size images of her beloved Wandjina for the Art Gallery of South Australia's exhibition during the annual Indigenous Art Festival, TARNANTHI 2021. "My boys are here!" exclaimed Angelina when she saw her pieces on display for the opening weekend. The artist further delighted audiences during her floor talks in discussing her practice and showing attendees the materials she uses. Please listen to podcasts and recordings of the artist's talks here: https://www.agsa.sa.gov.au/whats-on/tarnanthi/tarnanthi-2021/tarnanthi-podcasts/
Painted with white ochre foraged from freshwater and saltwater banks in the remote region of Kalumburu, northern Kimberley, Karadada applies the paint after mixing the ochre with boiled resin from the white gum tree. This traditional method of painting was taught to Angelina by her mother, renowed artist Lily Karadada. For TARNANTHI Angelina applied the textured paint onto large papers, outlining the Wandjina then filling in the figure with dotting implying the creator's connection to water. Ranging from soft white and dark pinks to earthy colours the works signify the Wandjina emerged further into the world, to eventually turn into rock art.
Waringarri Arts boab engravers Nathan Thomas and Margaret Beebe were also invited to attend the opening of TARNANTHI 2021 to view their flock of engraved bird boab nuts in mid-flight. Engraved by nine boab engravers from Waringarri Arts and installed by the creative Install team at AGSA, the boabs are shaped like birds and engraved to resemble birds, and were positioned on small wire placements set off the wall casting shadows which duplicating the flock. Nathan and Margaret enjoyed chatting with the media and audiences about the diverse tools and skills required in this traditional practice.
https://soundcloud.com/artgalleryofsa/tarnanthi-artist-talk-nici-cumpston-in-conversation-with-waringarri-artists