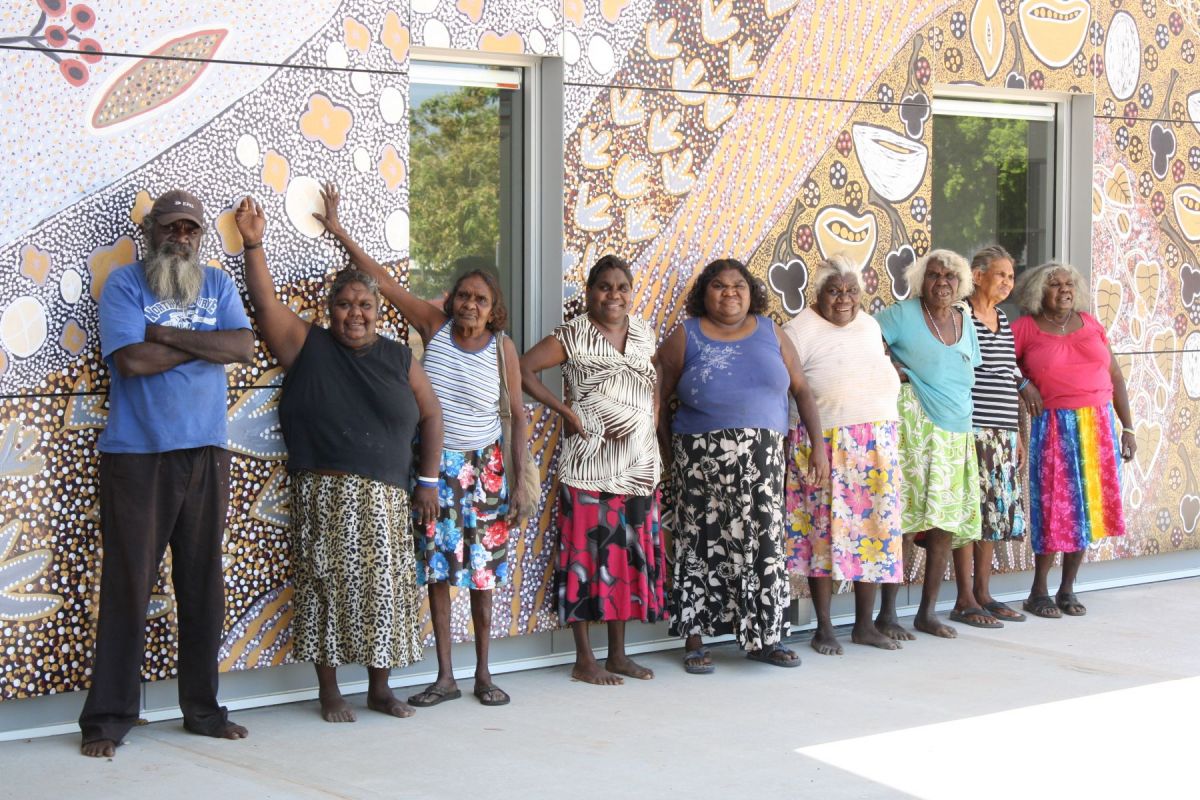 Bush Medicine Wall
Nine artists worked together from a studio space at Waringarri Aboriginal Arts to illustrate different bush medicines at Kununurra Health campus.
---
Project Categories
Dawang Stories
Public Art
Culture
Community
---
Project Status -
Completed
About This Project
The 'bush medicine wall or project' encouraged a collaboration endeavour by 9 Waringarri artists following an invitation for an artistic contribution to Kununurra's Ochre Health Centre. The artists involved in the project were Agnes Armstrong, Philomena Armstrong, Peggy Griffiths, Kittey Malarvie, Louise Malarvie, Gloria Mengil, Judy Mengil, Bryan Murielle, and Phyllis Ningarmara.
Initially, artists discussed waht was culturally appropriate in earlier times and relevant ot the health and culture of Miriwoong people and Miriwoong Country. A celebration and preservation of bush medicine knowledge and traditional culture was concerned as the key project concept.
Artists worked on the project for 6 months, initially producing sketches were developed as individual artworks before artists commenced a series of large collaborative artworks. Finally, the chosen artwork was digitally reproduced and scaled up to spectacular 33 x 3 metres and proudly installed as the 'Bush Medicine Wall'.
The project encouraged artists to become interested in possibilities offered by the 'built environment' as a new 'canvas' for presenting artwork. The Ochre Health Centre presented fresh challenges for artists in terms of knowledge, sharing, collaboration, scale and visual cohesion.
"Sitting together we talked and painted a lot, we learnt what each other thought waht was the right colours and patterns to use to help the contrast and for this one big picture to flow together." Judy Mengil
The artists' studio became a place for remembering remedies, sharing knowledge and teaching cultural practices. Through a series of workshops, artists developed ideas, sketches and individual paitnings in recalling traditional foods and medicines. The project soon advanced into significant personal journeys with artist's reminiscence of 'the old days' before there were hospitals and clinics.
"We were all together working and talking about bush medicine - thinking about who would paint which ones." Kittey Malarvie
The 'Bush Medicine Wall" contributes to a respectful relationship between traditional and contemrporary health practice.
"Now I am proud to see the finished wall and proud that my kids can also see it." Gloria Mengil