Waringarri Arts offers a range of authentic art and culture tours. A unique opportunity to experience Aboriginal Culture in the Kimberley with our Miriwoong tour guides.
Please note that bookings are essential for all tours and numbers are limited so please get in touch with us early to avoid disappointment.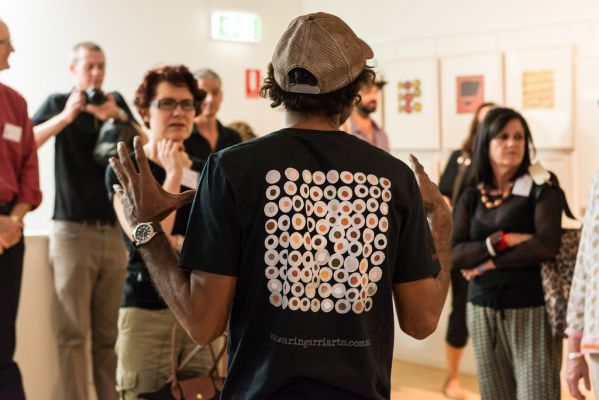 Art Centre Tour
Tuesdays, Wednesdays and Thursdays.
11:00am – 12:30pm, or by appointment for groups.
Cost: Adults – $65 Children (5-15 yrs) – $25
Take a tour with an artist and arts worker from Waringarri Arts. Learn about the history of the centre, view artists at work and chat with local Indigenous staff while tasting delicious home made damper.
---
Sunset Tour
Mondays and Wednesdays
3pm – 5:30pm (approx)
Cost: Adults – $85 Children (5-15 yrs) - $45
Learn about Miriwoong culture and art by touring Waringarri Aboriginal Arts with an artist and Miriwoong Tour Guide. Finish the tour with a bush tucker tasting followed by a didgeridoo performance in Mirima National park overlooking a beautiful sunset panorama.
---
Mirima National Park Walk
Tuesdays and Thursdays.
10:00am – 12:30pm (approx.)
Cost: Adults – $85 Children (5-15 yrs) – $45
Immerse yourself in the richness of Miriwoong culture among the ancient escarpments of Mirima National Park. Take a 30 minute walk with our local Aboriginal tour guides, see some rock art, learn about bush tucker while sharing in the knowledge and stories of Miriwoong art and culture.
---
Media:
Wander Out Yonder in WA with Joel Creasey, Network Ten.
Destination WA, Nine Network